This game is the sequel to Atelier Sophie: The Alchemist of the Mysterious Book, one of PlayStation 4's best-selling games. There are no restrictions on this title in terms of a platform or genre; if you're an RPG fan, it'll be right up your alley.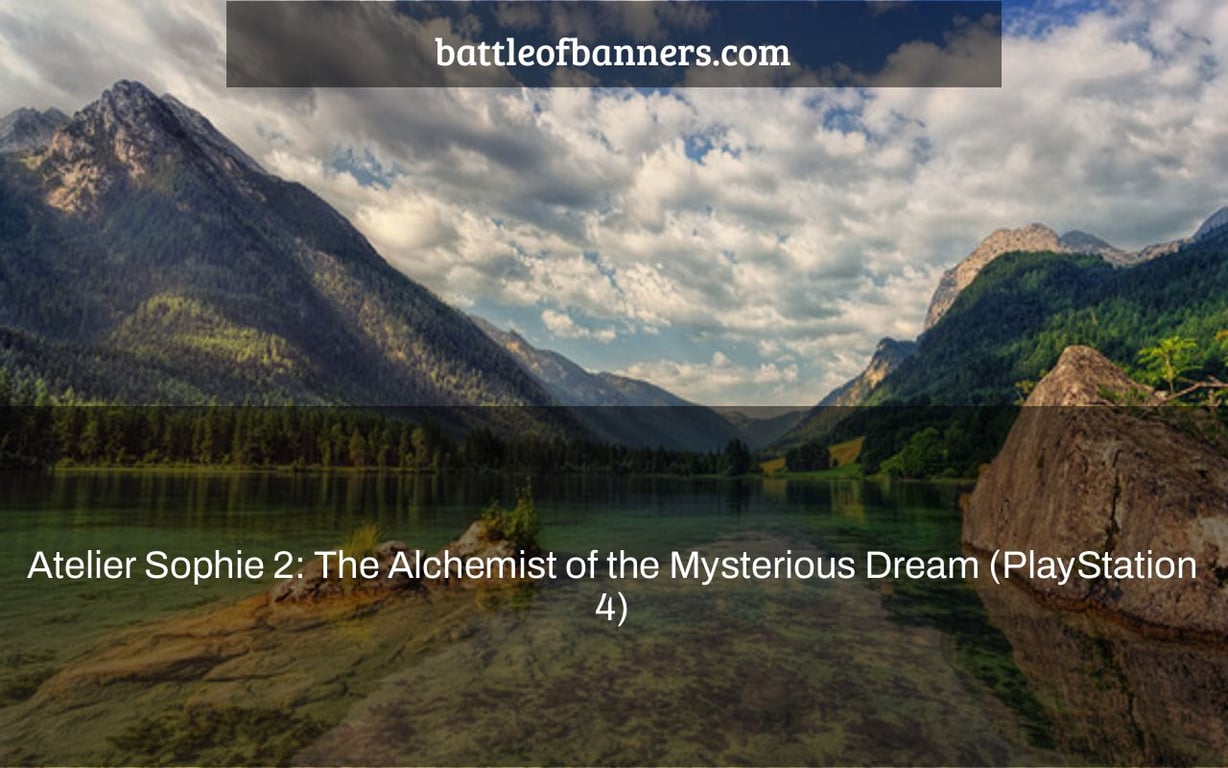 I'm always excited for a new Atelier game when Koei Tecmo teases a new game announcement or when I see them on a guest list at an event. Despite coming late to the series, I've come to love playing the games, and when Atelier Sophie 2 was announced, I was in a full-fledged urge to play it as soon as possible.
Sophie still wants to complete her alchemy test and find Plachta's human body as the narrative begins. A vortex appears when they are studying a tree, transporting them to another realm. Sophie is assisted by local neighbors, and the two of them set out to find her companion. It is not absolutely required to play the first game since there is an option on the main menu to see the prior tale. Basically a "last time on Dragon Ball Z" part where the important topics are swiftly covered in order to grasp the alchemy test and Plachta's new body.
The gameplay is standard for the series. You walk into a big field and collect rocks, plants, and other natural elements to use in your cauldron to make new items. The pastel hues and relaxing music create an ambience that makes the experience relaxing and pleasurable. Rather of seeming repetitive, newly made objects may be utilized to build additional items, unlocking further creation recipes.
The procedure of making new things is identical to that of the previous game. You choose objects from a list of acquired items, each with its own set of elemental kinds and powers, and arrange them on a grid. Extra points are awarded by various markers on the grid. For example, if you obtain 5 lightning points when making a fishing pole, you will get benefits. Additional points may be earned by placing things on the lightning locations. You'll earn the bonus if you hit five. More benefits may be earned later, after friendship levels have been reached.
Instead of Sophie producing things, you may have a buddy in the game create them for you. They each have their own recipes and share some with each other. It's fascinating to observe how Koei Tecmo tweaks the alchemical procedures in each game while keeping the basic goal the same. The possibility for a great creation is a new bonus to making products. Every item manufactured has a % probability, and the chance increases as the object's quality improves. It's all too simple to be sucked into doing nothing but alchemy for hours on end. I know what I'm talking about since I've been there.
Change the weather, which opens or shuts places while out exploring the fields, is another new function. A wet location may turn sunny with the use of a weather-changing gadget, removing the rain as well as rivers that were closing off parts of the land. Another new feature is the illumination of certain meeting locations. Gathering at these locations triggers a minigame in which you must stop the spinner to get a certain elemental of that item, enhanced quality, or money.
If slaying monsters and selling alchemized things isn't enough to make ends meet, there are subquests similar to Atelier Ryza 2 to complete. You can get jobs to kill x opponent or obtain x objects to give in for money and reputation with the town at the bar with the attractive Kati. Given that you're already accomplishing those activities while you're out and about, it's usually a good idea to stop in and pick up additional subquests while completing the ones you've previously completed.
The game is, in fact, just as entertaining as the others. The issues are modest; for example, loading might take a lengthy time at times. This is most noticeable while going quickly and having to wait. It's not quite as aggravating as viewing a YouTube video while waiting, but it's close. Another issue is that the field guide does not provide nearly as much information as I would want. This is my one and only gripe with the games. It would indicate that an item is at one location, but after going through it many times, I never found that thing there again. There is no extra information about obtaining it, leaving me scratching my brain as to where or how I obtained it the first time I went in that region but not the subsequent times.
Atelier Sophie 2: The Alchemist of the Mysterious Dream is an excellent game for newcomers to the genre. It retains much of the gameplay from the previous game while adopting some of Ryza's to produce a really enjoyable experience. The charm is there to provide a relaxing gaming experience free of too intricate storylines or fighting mechanics. Instead, you get to go pick up some rocks and flowers and make a sword out of them while interacting with a fantastic cast of people. I can't say enough good things about Atelier Sophie 2, and I'm looking forward to Koei Tecmo's next Atelier game.
*The publisher graciously offered this Review Code for review*
Koei Tecmo is the creator of this game. Release date: February 25, 2022 Publisher: Koei Tecmo, KOEI TECMO AMERICA Corporation PlayStation 4, Microsoft Windows, and Nintendo Switch are the platforms available. PS4 PRO was used for this review.